Meet Ernie DeLosAngeles – Head Performance Coach for the NBA G-League's Walnut Creek Ignite
We sat down with Ernie to discuss training NBA hopefuls at COPA STC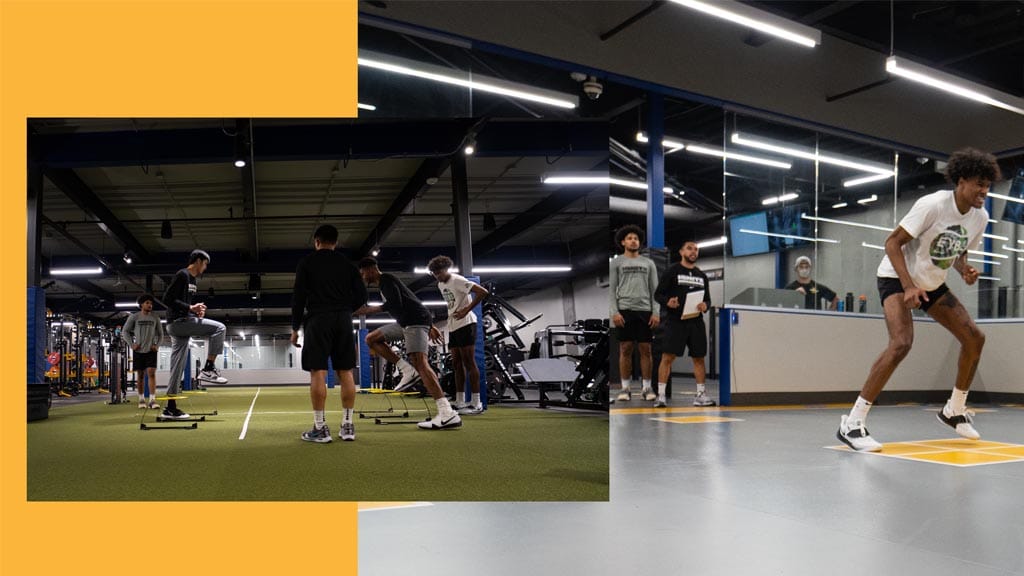 Ernie works with NBA star Jalen Green and Ignite teammates at COPA STC
For the past two years, the NBA G-League's Walnut Creek Ignite have brought their talents to COPA STC. Our facility has provided them the capability to step up their training with the hopes of making it to the big stage. Under the expert tutelage of Head Performance Coach Ernie DeLosAngeles, NBA stars such as Houston Rockets' Jalen Green,Golden State Warriors' Jonathan Kuminga, and Milwaukee Bucks' Isaiah Todd have poured their sweat onto our floors.Ernie hopes this year's NBA hopefuls such as Jaden Hardy, Dyson Daniels, MarJon Beauchamp, Mike Foster, and Fanbo Zeng follow suit.
Between intense training sessions, wesat down with Ernie todiscuss his time at COPA STC.
You've been a performance coach for the six years in the G-League, two of which with Ignite. What brought your talents to COPA?
The deal between Ignite and COPA was already set up before I came to the team, and that was a selling point for me. Not many G-League teams have access to such an amazing facility. When I found out about it, I had to look it up. I wanted to see it for myself. It has everything we need and then some. It was easy to make the jump after that.
You trained in SpeedLab last year. What tech did you find helped each of the athletes improve their skill sets most to achieve success at the highest level?
I think the tech that really helped was the SpeedCourt. It gave instantaneous feedback on what they were doing and how they were performing through each assessment. It also drove competition. We were able to do things in groups, so two people going at once brought out everyone's competitive nature. It brought tremendous value.
The SpeedTrack's laser-timing gates were also helpful because they gave an objective measure of speed and broke it into each split. And you can't forget about the Force Plate. That gave us tremendous feedback. We even bought our own to take to the Bubble. We were getting jumps on a regular basis at COPA to track progress and to see at a readiness standpoint where the athletes were in training, on the court, and how they're responding for the day. Gave an enormous amount of feedback and we didn't want to miss that when we went to Orlando. That helped make adjustments, add recovery, and perform better.
What about the facility made you want to come back?
We have resources at COPA that aren't anywhere else. The SpeedCourt for example. There's only one other basketball team that has one –the Minnesota Timberwolves. If an NBA team has it and we do too, that's something we can utilize to provide value. COPA has everything we need. From the turf to the weight room, there isn't much missing from a performance standpoint. On top of that, working with the people at COPA, they're easy and have a great report. The staff is a great resource.
What did you use during the season to aide in your top prospects' development?
When we were in season, we really utilized the force plates. It was important to see constant growth even later into the season. This was positive for us and the players to see. They saw that even though things were wrapping up, they were still improving. Typically, there is fatigue and feeling beatdown, but they were still improving.
Looking to the future, how do you see programs like SpeedLab and COPA helping future professional basketball athletes?
I think the facility and the resources can help our guys. The same equipment there is the same they'll see in the NBA. There's no shortage of resources. Any piece of equipment we need to train with is at our dispense at COPA. From the SpeedLab to the weight room, there's no shortage of tools to use. That helps in our overall development.
If we didn't have the tools, it would harder to achieve our goals and foster development. Because COPA has SpeedTrack and SpeedCourt and so much more, we can use them to objectively measure improvement. It's not just use guessing or using the eye test – oh, he looks faster. There's objective measurements and COPA provides those resources.
Every year, thousands of younger student athletes come through these doors. What are your top three pieces of advice you would give them to help them achieve their athletic goals?
The top would be to have a goal and riding it out. If it's to be starting or to score goals or to earn the captain spot, having a goal in mind is always going to help. When you start to break your routine or stop being consistent, you can fall back on that goal and get back your focus.
Then I would say to develop a routine. That would be everything from waking up and going to bed at a certain time, training for whatever sport they play, preparation, and coming in on a regular basis. Developing a routine is key.
Once you develop that routine, keep it consistent. We've all developed routines, but didn't stay consistent, so we didn't yield the benefits. From a nutrition, sleep, to a training standpoint, you have to be consistent.
So I would say my top three pieces of advice are to have a goal, create a routine, and follow through.
For more updates about SpeedLab, the Performance Center, and other COPA STC information, sign up for our newsletter
The Goal Post
.