Join a Camp and Play with Pros!
We've got a holiday special for you! Join one of our amazing camps and play with some of the brightest stars in professional soccer.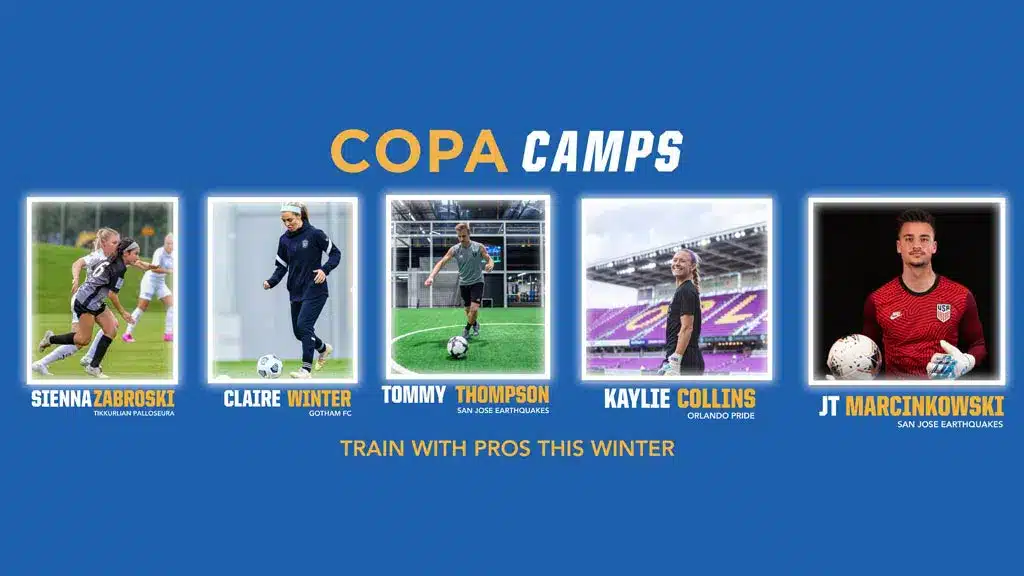 This holiday season, COPA Camps a special present for you –playing with the pros! Some of the brightest starts in professional soccer will be in our facility helping make each camp an experience to remember. Check out which camp you'd like to attend and get registered today!
MEET THE PROS
Tommy Thompson, San Jose Earthquakes
JT Marcinkowski, San Jose Earthquakes
Claire Winter, Gotham FC
Kaylie Collins, Orlando Pride
Sienna Zabroski, Tikkurlian Palloseura
Here's a list of the amazing camps you can attend during these dates:
A fun and encouraging environment designed to develop locomotor skills, strengthen cognitive abilities, and build self-confidence.
Our cutting-edge technologies allow you to receive objective and instant feedback to enhance your speed, strength, agility, and running technique.
Train and compete in our most advanced technologies to increase your technical and cognitive skills. Challenge yourself in the skills.lab Arena, COPA Cube, and others to improve your top score.
Can't decide between a SpeedLab and Tech Clinic?Do both. Our world-class coaches use the best of both worlds to create an exciting and holistic training environment.