The Junior COPA Score – Scorecard
An engaging breakdown of the Junior COPA Score highlighting an athlete's key soccer skills and providing insight into their strengths and weaknesses compared to their peers.
Your Development Enhanced
COPA's mission is to transform the game's subjective approach to player development and player identification with an objective data-driven approach in order to give everyone an equal opportunity to achieve their goals. The COPA Junior Score is a result of our innovative technologies measuring an athlete's technical, physical, and cognitive skills consistently.
We present this key information in an accessible and comprehensive format – the scorecard.
This version has been modified from our premier assessment – the COPA Score – to be more appropriate for our young athletes under the age of 12. The protocol was established following thousands of tests, data analysis, and collaboration with some of the world leaders in talent identification and youth player development. Since the protocols involved have been adjusted to be more age-appropriate, the two scores are not comparable because they have different scoring structures.
The Scorecard is designed to provide an athlete with concrete data on their overall performance, a breakdown of their individual scores, a comparison to their peers in order to objectively track current performance and continued development, and suggested development areas and training recommendations. This actionable information is key because learning and growing can only happen when the player gets feedback and is provided with clear goals.
The athlete's scores are calculated from the raw data collected during their assessment in our technology devices and then converted into a scoring scale of 0 to 100.
The first image is a snapshot of the athlete's most recent assessment performance. Featured in the hexagon will be three key points of information: the name of the athlete, their overall score, and a numerical breakdown of the seven categories that formed the overall score. The top number is the cumulative average of the athlete's performance, which provides COPA with an objective number to base the athlete's training level. The seven categories below the name are valuable measurements for an athlete's assessment and development. Each number next to the category represents the athlete's score for that particular measurement.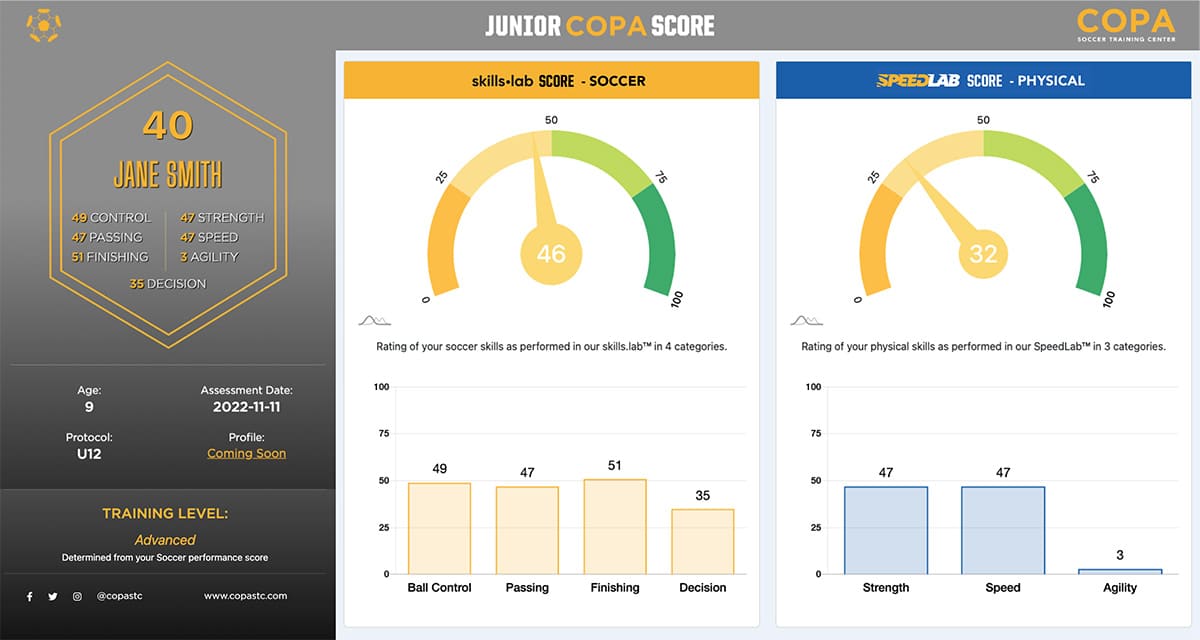 We also provide the athlete's age, date of the latest assessment, protocol age level, and a profile link. This allows COPA to properly group the athlete based on their age. The profile will be coming soon and feature videos, long-term scores, past developmental recommendations, and more.
Next is the athlete's Soccer Performance Score. This is based on their four categories of key soccer skills performed in the skills.lab Arena: ball control, passing, finishing, and decision-making. These four are universally accepted soccer measurements for overall performance. This allows us to repeatably assess an athlete's strengths and weaknesses with confidence and provide solutions to further their training.
Ball Control score is established from a variety of the exercises which assess first touch, handling time, and dribbling skills.
Passing score is established from passing accuracy and speed of play in a variety of exercises.
Finishing score is from the various finishing exercises assessing your shooting accuracy, power, and speed of play.
Decision-Making score is from the majority of exercises and assesses awareness, vision, and ability to execute in chaotic game-like scenarios.
The collection of these scores makes up your soccer performance score. This objective score is important as it establishes our training groups to ensure that similarly skilled players train together.
The Physical Performance Score is based on the physical scores in three categories during the SpeedLab portion of the Junior COPA Score: strength, speed, and agility. The categories receive averaged numbers, which are then averaged together to form the total score.
Strength score is taken from your 0 – 10-yard time achieved during the 30-yard sprint. We use the word 'strength' here as success in this phase of the sprint is a result of your ability to produce high amounts of force and accelerate in your first few steps.
Speed score is taken from your max sprinting speed during the 30-yard sprint.
Agility score is taken from the reactive agility test performed in our SpeedCourt.
The collection of these scores establishes the physical performance score, something each athlete should continuously look to improve over time.
These tests have been performed over 15,000 times to provide a massive database to compare each athlete. The next section of the scorecard takes that comparison a step further and breaks down the athlete's performance compared to their peers.
Every athlete wants to know how they measure up to their peers. This part of the scorecard provides a percentile-plotted breakdown of the key categories and where each performance falls. Because we have gathered information from thousands of assessments of athletes of all ages and skill levels, we can compare an athlete's performance against those of a similar age to see how they match up. An athlete can see if their performance in a given category needs development, is below average, above average, or excellent for their group. This allows us to highlight where they excel, aspects of their game that need improvement, and how they stack against the competition.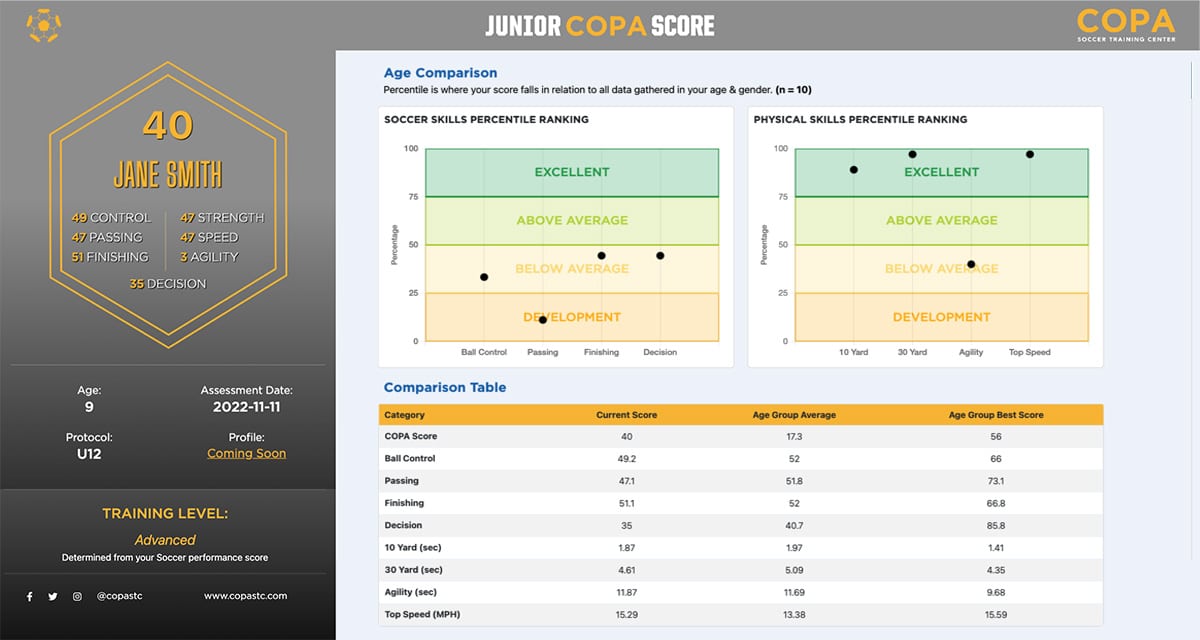 Using this example, 9-year-old Jane Smith scored around the 99th percentile for Top Speed. This means her Top Speed score is ranked in the top 1% of female athletes of the same age.
On the left graph, Jane is around the 15th percentile for Passing, meaning she is in the bottom 15% of athletes in her age and gender for this skill.
We take all the scores and compare them to other athletes of the same age and preferred gender identity. This number is represented at the top as N=x. X represents the number of peers that match the athlete. In the visual example, Jane Smith is 9 years old, so her score is compared to every other 9-year-old girl that has completed the Junior COPA Score and there have been 10 total 9-year-old girls that have completed the assessment.
This dynamic number is ever-increasing with each assessment, allowing our database to continuously grow and develop.
The comparison table at the bottom of this page provides a breakdown of the categories and how the athlete measures up against their peers.
Current Score is the athlete's score in each category.
Age Group Average is the overall average score of all athletes of the same age and gender.
Age Group Best Score is the top performance in each category based on age and gender.
The final section of the scorecard utilizes the data collected to curate personalized training recommendations based on your assessment results from our sports science team here at COPA.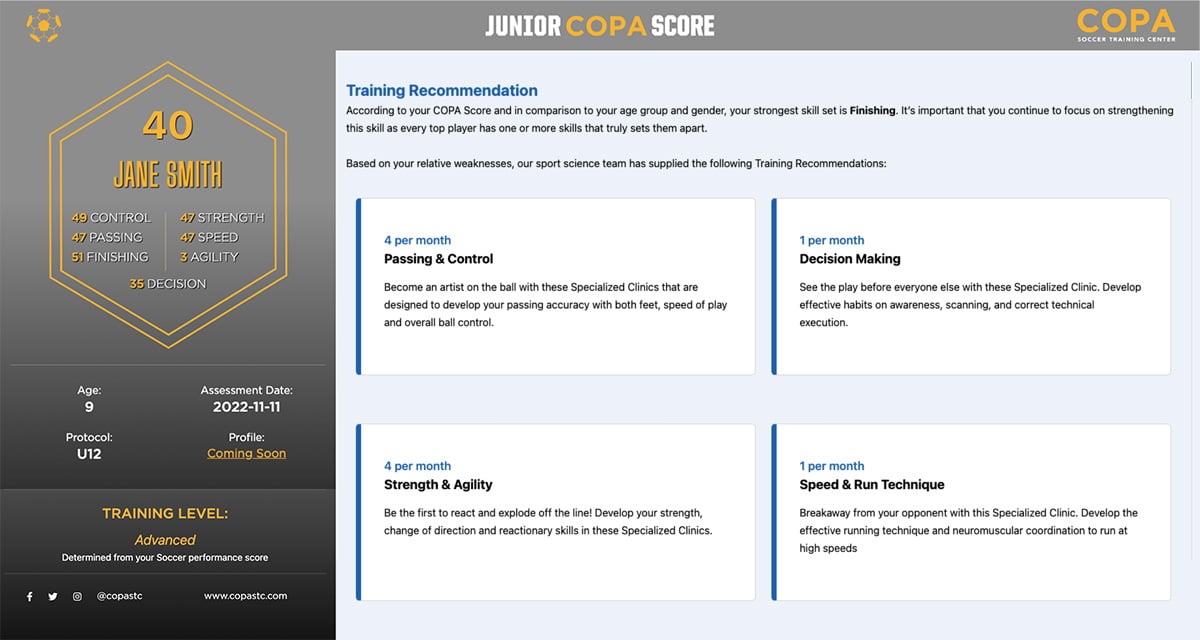 Once the strengths and weaknesses are identified, we can customize training sessions and a development plan. This section of the scorecard is designated to provide an athlete with suggested training opportunities based on the assessment scores in comparison to their age and gender grouping. We provide guidance and necessary tools to help the athlete continue their development. There will be two recommendations based on their skills performance and two based on their physical performance.
By gamifying the critical information in the development of an athlete, the Scorecard provides objective data in a comprehensive platform that highlights an athlete's strengths and weaknesses. This helps determine where the athlete is at in comparison to their peers and provides actionable information to help them learn and grow.
To learn more about COPA STC's bright future, please check out: