The COPA Score – The Next Evolution in Soccer
Utilizing their partnership with the Oakland Roots, COPA Soccer Training Center's trailblazing approach supports player development and takes player identification to a whole new level, providing improved chances for players and organizations to achieve their athletic goals.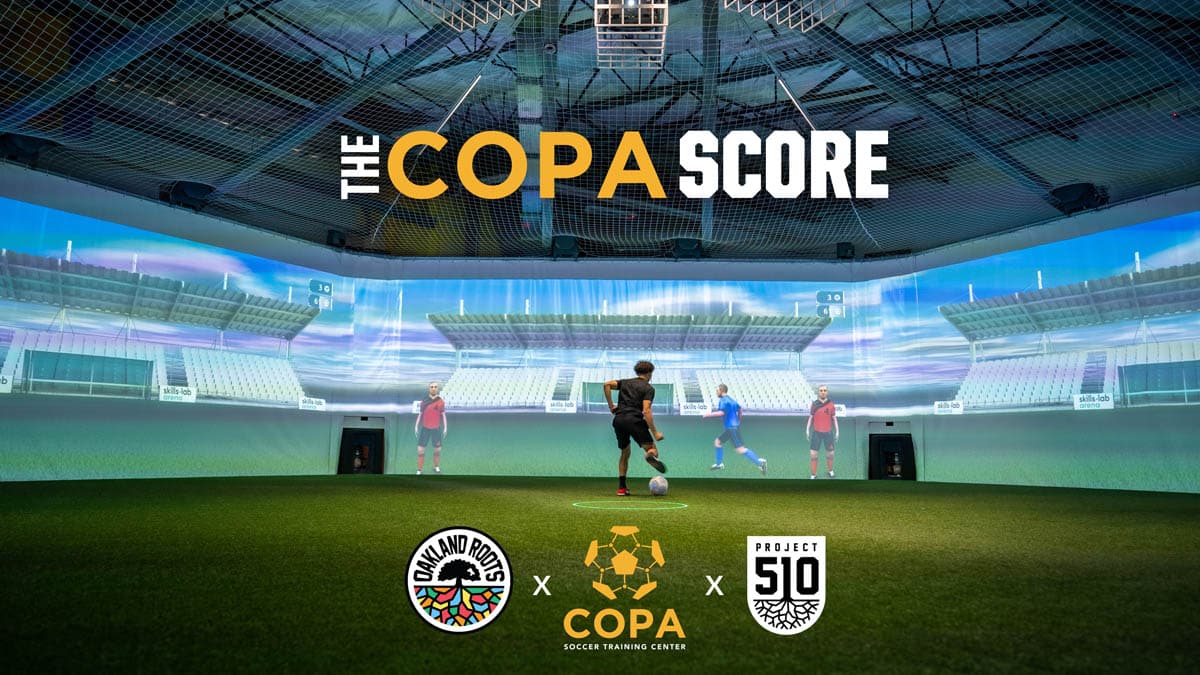 The Next Evolution in Soccer
Goals win games, shape careers, and create legends. Goals also develop the road we travel and navigate us along the journey of who we want to become. They pave the path, provide guidance, and set a destination.
Goals give us reasons to achieve more.
COPA STC's ultimate goal: Harness the latest advanced technologies to become the global standard in large-scale talent identification and athletic development.
Accomplishing this starts with assessments. Building large-scale databases using player evaluations across ages, genders, and skill levels provide the tools to derive powerful insights into how training regimens affect player development over time. COPA is committing the resources needed to make a long-term investment in the development of data-based knowledge in the growth of player-specific soccer skills.
Assessments are the catalyst behind engaging feedback loops in COPA's player development and identification ecosystem. After all, COPA does stand for Comprehensive Objective Performance Assessment. These data provide a quantitative benchmark used to measure an athlete's progress and compare their skills-specific performance to their peers.
Read the Book, Not the Cover
The traditional approach to player development and identification has been heavily influenced by subjective observation. We've all heard the cliché "looks can be deceiving," yet countless athletes have been passed over because of a first look, or they didn't pass a coach's eye test. No matter how great they are at observing talent, anyone is subject to fault using incomplete or limited information, even coaches and scouts. COPA aims to fix that.
"COPA's purpose is to optimize the player development and identification process of clubs, coaches, organizations, players, and parents," says Charlie Campbell, COPA STC Managing Director. Campbell, an NCAA Division I Coaching Team of the Year member and former professional player, created one of the nation's largest player identification camp networks. He has teamed up with Mark Hall, a northern California-based diversified entrepreneur, to bring the "Moneyball" philosophy to soccer. Hall's vision was in pursuit of an objective assessment-based approach that could be scaled to evaluate millions of players globally. "We spent years visiting the world's top clubs known for talent identification and development using groundbreaking technologies," said Campbell. This education process led to COPA developing many of its own proprietary training devices and combining them with others to create an orchestra of technologies to evaluate player skills.
By combining the world's leading assessment technologies with their own proprietary ones, COPA aims to provide the most effective process to identify potential talent and assist in the long-term development of all athletes. Not constrained by league rules for competitive clubs that are primarily focused on competitive gameplay, COPA is a private non-club aligned organization "on a mission to create an even better player development and identification program than most professional clubs' youth academies in assessing and developing young athletes, and to do this for every player, regardless of initial skill level," said Hall.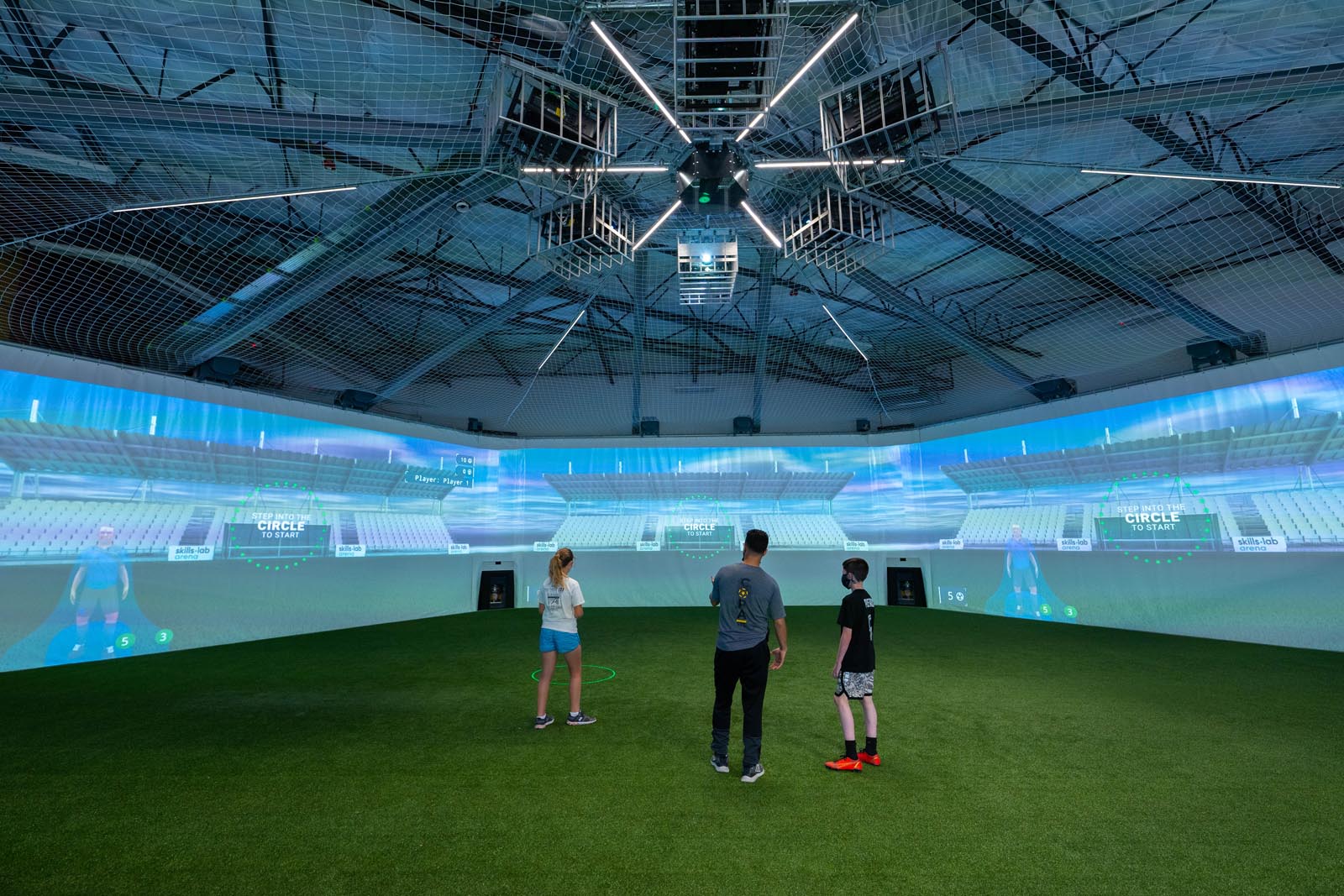 Athletes of all ages and skill levels have access to this innovative technology.
COPA STC readily offers their technologies and training methodologies to create vital data that guides a curated curriculum for each athlete's long-term development. All ages and all skill levels can access the most advanced tools through COPA. They are transforming their approach to player development so anyone with the right drive can unlock their full potential.
Breaking Down The COPA Score
Here is a play-by-play to better understand their assessment-based approach:
1. An objective quantitative score is provided for the key pillars of the game – passing, ball control, finishing, decision-making, speed, strength, and agility. The cumulation of those scores determines the athlete's COPA Score.
2. A machine algorithm analyzes an athlete's data points against COPA's large proprietary database to determine their strengths and weaknesses relative to their peer population (age and gender) and aspirational population (collegiate and professional players).
3. COPA's sports science team creates training prescriptions to optimize the athlete's individual development.
4. COPA's technical staff curates an array of training curriculums hyper-focused to attack the individual needs of the athlete. Certified coaches leverage a purposeful training methodology to maximize skill development within a gamified small-group environment.
5. COPA gamifies their training methodology, contributing to more rapid neural pathway development in your skills. The power of deliberate and intentional practice to positively influence cognitive development is enhanced when the drive of the player is elevated.
6. Athletes periodically re-assess to update their COPA Score, track their progression, and modify their training focus.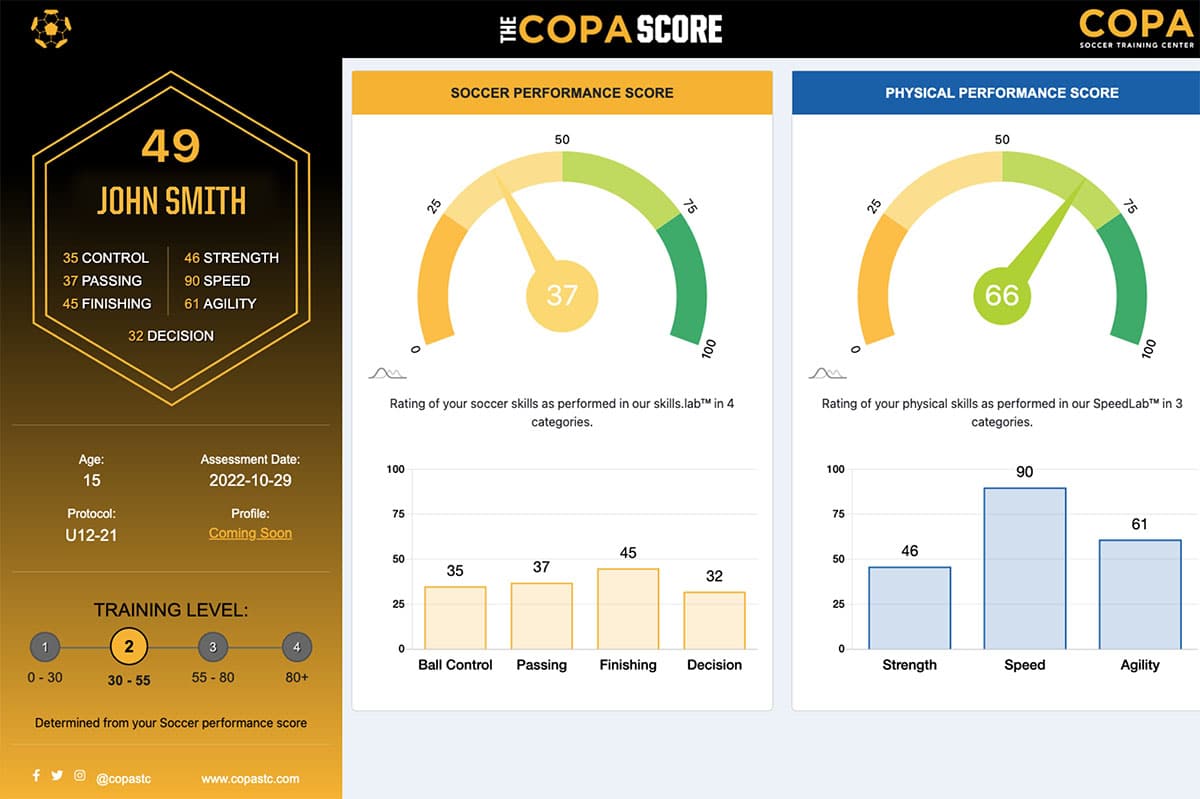 Athletes of all ages and skill levels have access to this innovative technology.
The Key to Unlocking Potential
Competitive athletes want to reach their full potential, but don't always have the tools to do so. There are two key elements an athlete needs in order to improve – knowledge and access. Knowledge comes with an understanding of one's own strengths and shortcomings. Access is having the necessary resources to elevate the strengths and improve the shortcomings.
"The COPA Score objectively quantifies an athlete's skills, identifies areas for development, and creates a baseline for each player to work from," says Barry McCabe, COPA STC Director of Player Development. "No matter how an athlete performs in the assessment, they will receive actionable information back. This is the key to the development end of what we aim to do – learning and development can only happen when the athlete is engaged in the process, receives feedback to guide the learning, and has clear objectives (goals). The scores can accelerate this process dramatically."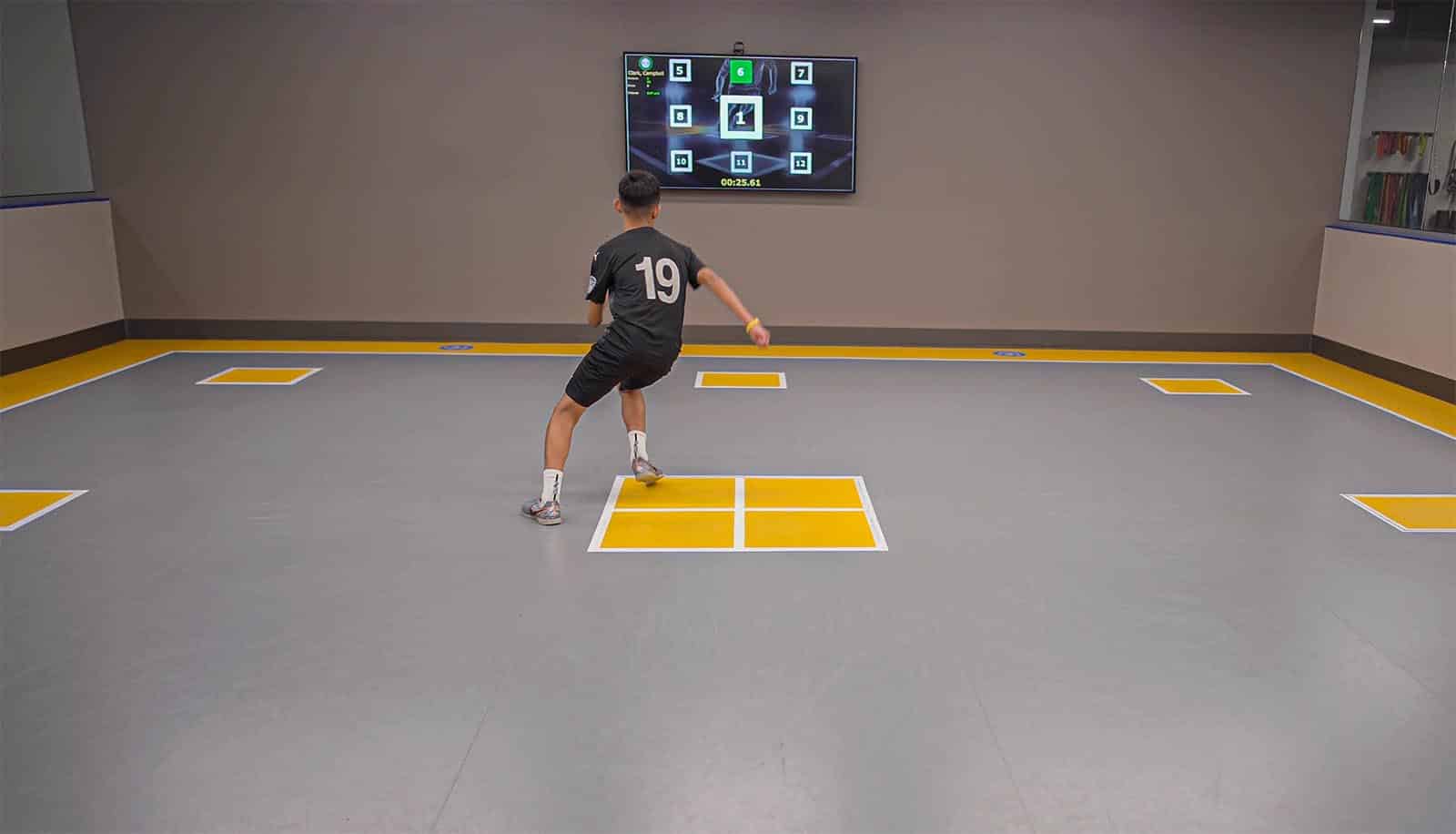 The SpeedCourt is an agility-based training and assessment device that uses customized games to challenge athletes physically and cognitively.
These numbers would be arbitrary if it weren't for the database COPA has accumulated from thousands of assessments of athletes of all ages and skill levels. They can compare an athlete's assessment performance against those of a similar age to see how their skillset matches up. They can also compare each player to their aspiring level of play. Where did they excel? What aspects of their game could use improvement? How did they stack up against the high performers?
"These comparative data inform us of the next phase of training," says Dr. Ming-Chang Tsai, COPA STC Director of Science and Technology. "Once we identify strengths and gaps, we can individualize training sessions and development plans to address these. This is where the data comes into play. Now that we have the athlete's completed assessment and a database to compare their skills to, we can prescribe training. We individualize the training approach in a small group setting tailored to focus on highlighting each athlete's strengths and developing their shortcomings."
The athlete has a goal, COPA provides the guidance and tools to get them there.
And this is not a one-off assessment. It's repeatable. By assessing, data comparison, training, reassessing, and so on, they provide the opportunity for constant and continued growth.
Everyone Gets A Fair Shot
Almost every athlete knows what it's like to be looked over and passed up. You put in the work and show up to find hundreds of other hopefuls and one coach with a clipboard at tryouts. Coaches rely mostly on word of mouth, the previous year's coaches, scouts, or that day's performance. It's near impossible for both athletes and coaches to assess everyone in this way. You may perform at your best, but it is easy to fall through the cracks.
Due to the lack of player-specific and peer-based objective data to support decision-making, player identification has often proven to be inefficient and littered with bias – specifically around the prioritization of physical development over long-term potential. Take Antione Griezmann for example. Turned away by club after club due to his small stature only to end up a World Cup champion. How many other Griezmann's have been overlooked due to bias and short-sightedness?
Only a few of the world's top clubs have invested heavily to develop and acquire technologies that produce quantitative data to assess and train their players – from the first team down to the academy squad. Most of these programs still rely on simply purchasing the player contracts of already known talented players. The shift to an objective and quantitative focus on player development is still in the early stages of global acceptance (check out Bayern Munich using their own skills.lab Arena at FC Bayern Campus, Munich). But this is changing.
COPA is one of the few organizations leading this movement. "Eventually, the days of purely subjective observations and player identification will be a relic of the past," Campbell adds. "Quantitative data will assist decision-makers in their evaluation of talent. Organizations like the Oakland Roots, NorCal Premier PDP Program, Walnut Creek Surf, and multiple NCAA Division 1 programs are already leveraging the COPA Score to assist in player identification."
By establishing benchmarks, these assessments have become a filtering mechanism to evaluate talent objectively and accurately on a large-scale basis. COPA believes similar organizations will increasingly come to rely on their expertise in this area to essentially outsource initial talent evaluation and compare prospective players to their large-scale database. Players will realize that having a COPA Score will become a needed element for consideration in clubs and collegiate recruiting, as well as simply being a fun and useful way to track growth and compare to friends and peers.
An example of a club using COPA's expertise is their partnership with the Oakland Roots USL team to assess players in all pillars of the club – including the Roots Recognize Initiative, Project 51O, and the Oakland Roots 1st team.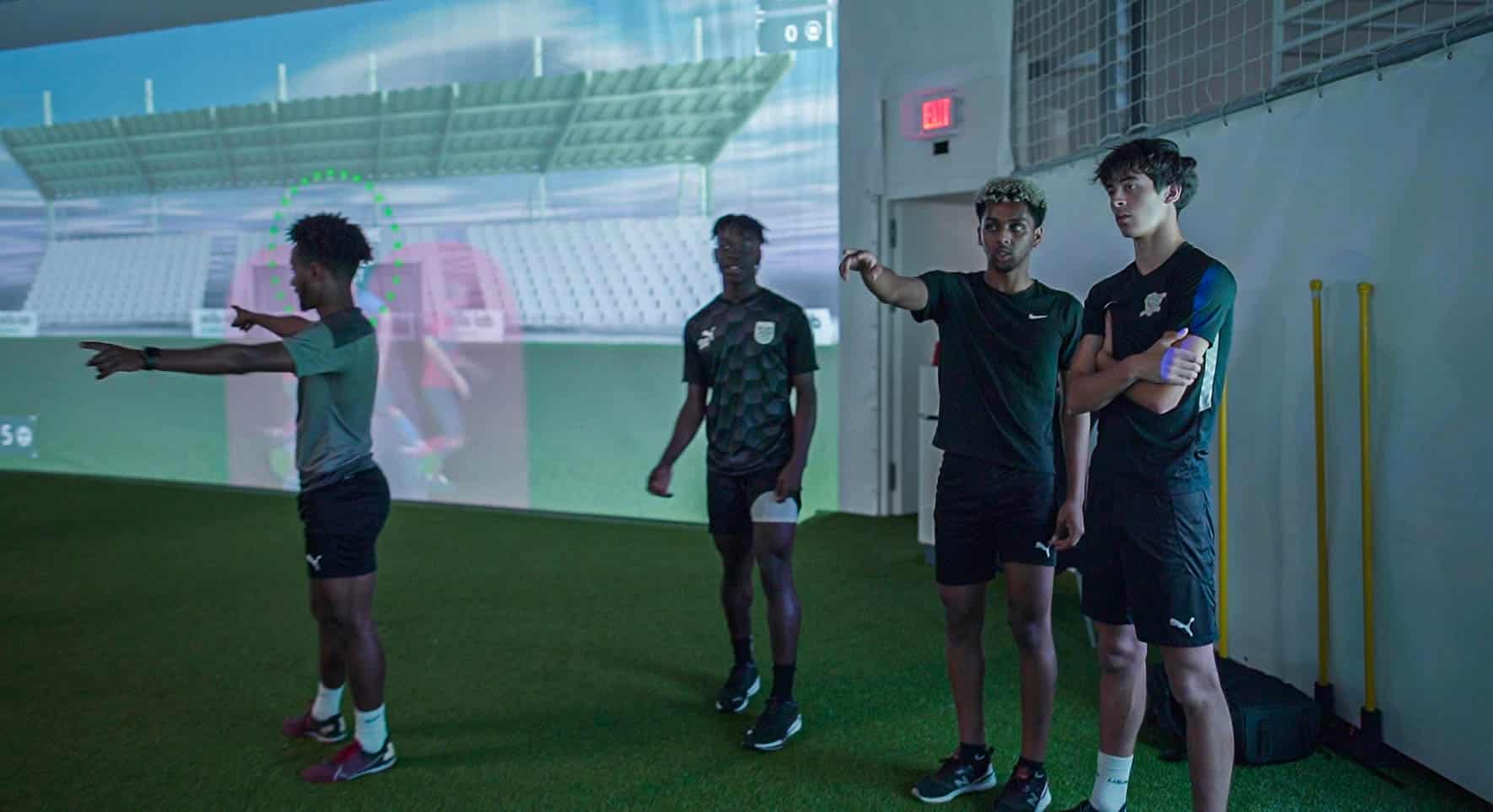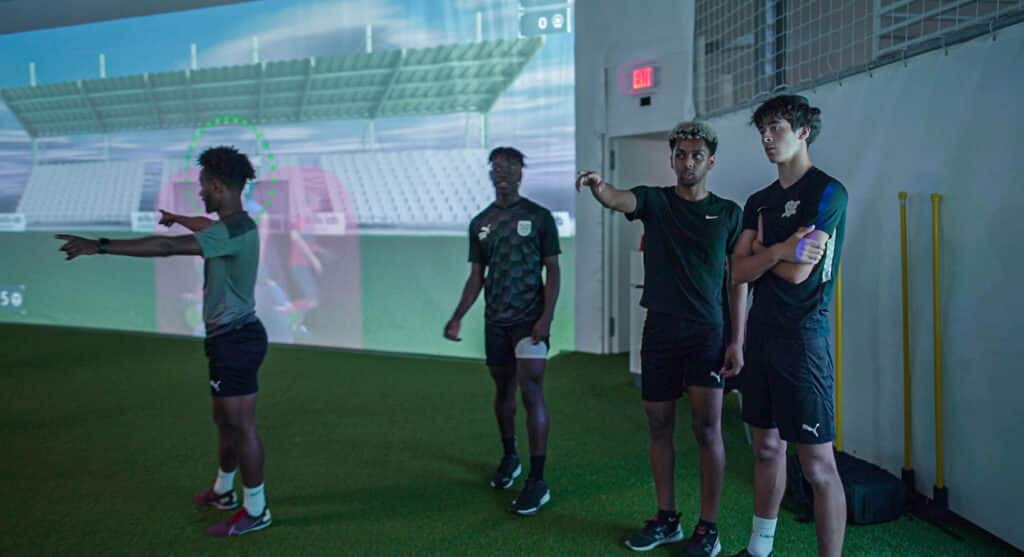 Players from Project 51O prepare for their assessment in the skills.lab Arena.
The COPA Score provides an additional opportunity for players to be considered. "We hear from hundreds of hopeful athletes every month looking to take their soccer careers to the next level," says Jordan Ferrell, Oakland Roots Technical Director. "It's impossible to see every one of them. Potential pros are inevitably missed because they are not caught by the traditional subjective and limited methods of scouting. The COPA Score can accurately evaluate hundreds of these prospective athletes and provide us with critical data we would otherwise not have. This objective evaluation can help fill in the gaps of both the recruiting and training process." The assessment-based approach creates an added layer of objective player identification to shore up holes in the process – the Oakland Roots can assess prospective players who may deserve a deeper look for the first team.
In addition, the baseline assessment of current Roots players provides the team with a deeper analysis of their talent pool, data showing strengths and shortcomings, individual player development plans, and tracking of individual growth. This information can either reinforce previous judgments or provide data for overlooked information due to subjective bias. "Our testing emphasizes key aspects of the soccer player – decision making, finishing, passing, ball control, speed, agility, and strength," says Campbell.
COPA has performed numerous assessments of players in the Oakland Roots Organization, from 1st team to youths in the Roots Recognized Initiative who have been tipped for future success. These assessments have provided the Roots technical staff an extra layer of insight into the makeup of their talented players, while also objectively comparing players across the playing levels. "The info provided has fueled more conversation about players, their potential trajectory, as well as areas the players will focus on developing with their coaches at the club," says McCabe.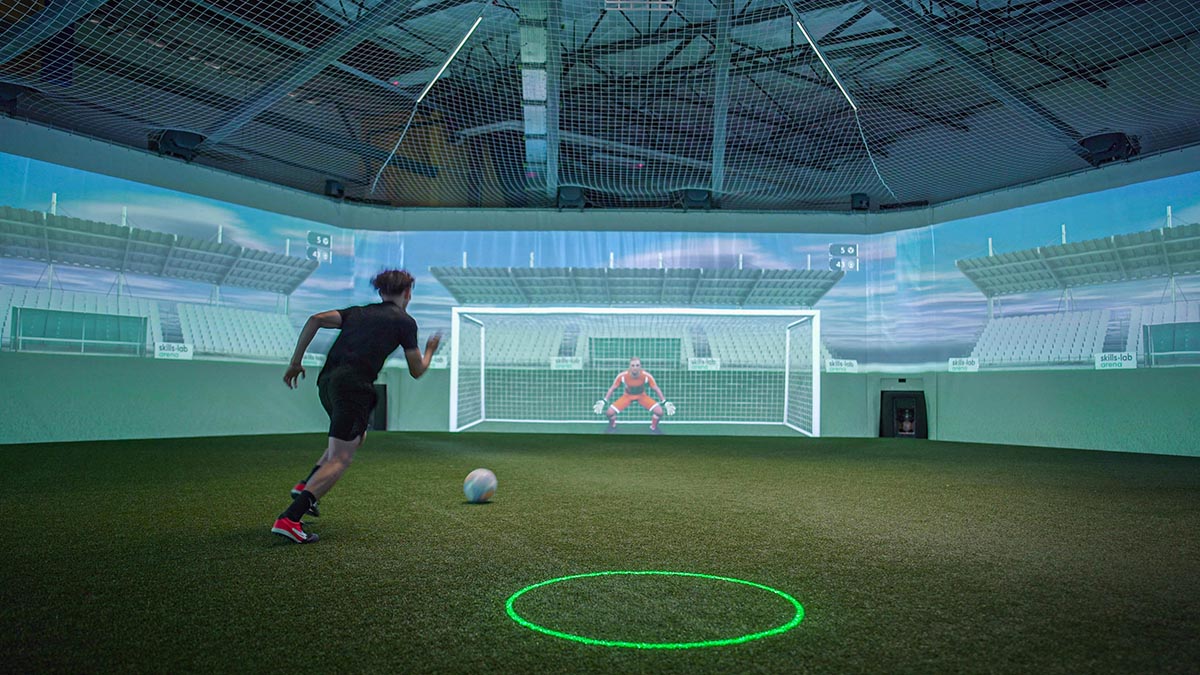 One of the many protocols is a player's ability to finish with speed, power, and accuracy.
COPA and the Roots are completing the assessments of their current players to establish their competitive benchmarks and assisting their technical staff in making team selections in the coming years. This objective player identification pathway will also be provided to aspiring professional players to see how they stack up against existing Roots professional athletes.
The COPA Score objectively optimizes player development and identification in order to unlock a player's undiscovered potential.
COPA STC's goal is to transform soccer's subjective approach to player identification and continue to pursue player development best practices through actionable information on specific skills and areas for focus. They want to change the game so everyone has a fair shot at their goals.
That leaves one final question – what is your goal?